Airvida E1
Airvida E1 is the world's first ionic air purifier that comes with noise cancelling earphones. It weighted only 42 grams and is comfortable to wear for hours. With noise-cancelling earphones, it can block out those unwanted noises and allow you to immerse in the music. In addition, Airvida E1 can be put on its own stand. It allows you to use as a desktop air purifier even in the office.
Airvida E1 can connect with Airvida Connect smartphone App, which can receive notification messages for the change of AQI (Air Quality Index) levels. Airvida E1 offers 3 levels of negative ions to fight against different air pollution conditions. Enjoy both the premium sound quality and purified air with the Airvida E1 while on the way to the office or going to the gym.
1 Refer to the official test report 221S-1116 from Japan Far Infrared Association.
2 Refer to the official test report 221S-1117 from Japan Far Infrared Association.
3 Refer to the official test report 2020_0031 from Japan Kitasato Research Center for Environmental Science. The test virus is Escherichia coli phage MS2 NBRC 102619.
4 Refer to the official test report STI-20190606-014N from Sci-tech Innovation.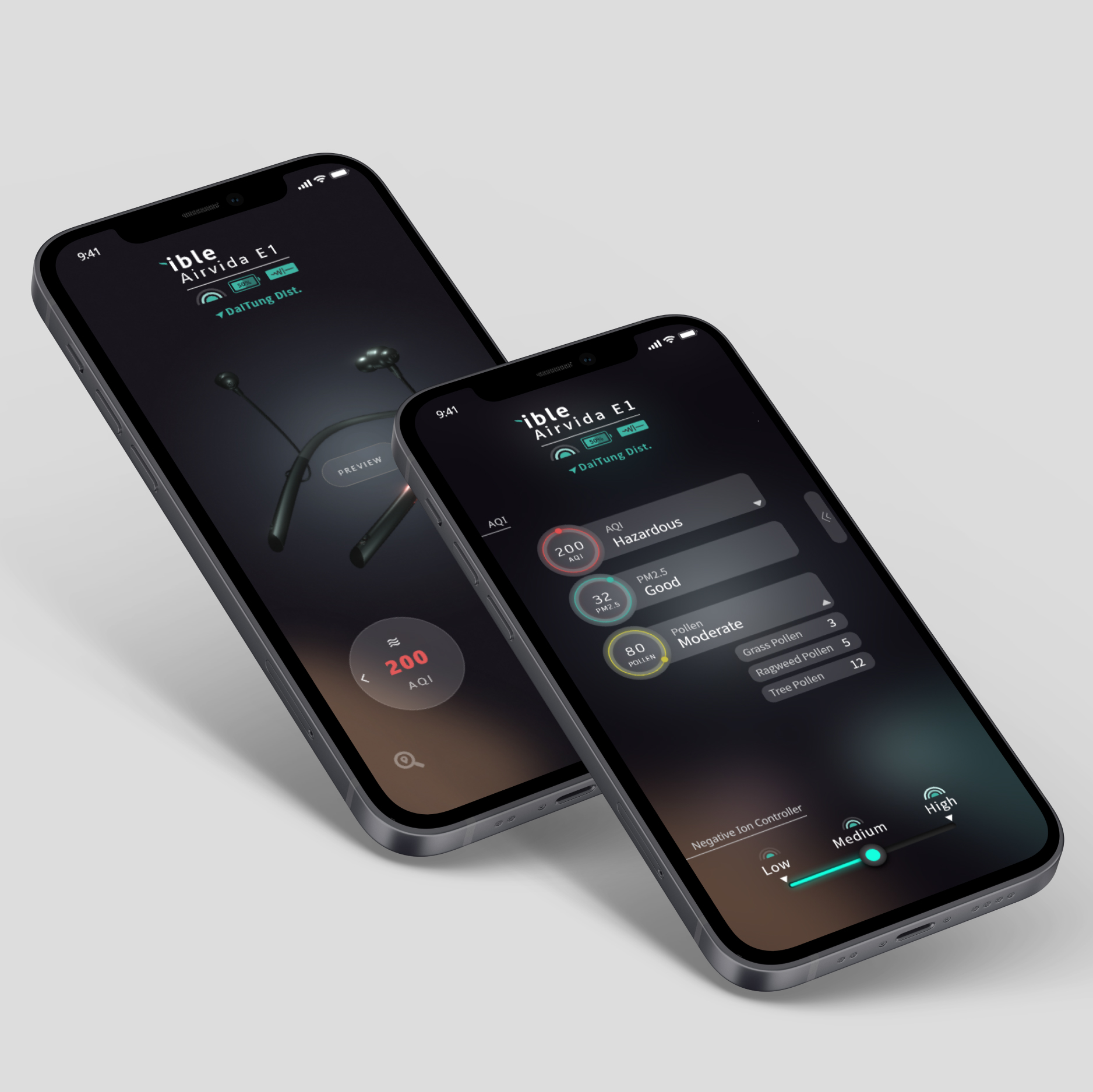 Airvida Connect -
Connect You & Airvida E1
Instant air quality change notification to you
Real-time air pollution and pollen information according to your location
Suggestion on the negative ions level
Adjustable negative ions level to balance air quality and battery life
Mechanism
Airborne particles (including PM2.5, virus, bacteria and allergic substances such as smoke, dust mite, and pet dander) are extremely harmful to health condition.
Airvida E1 enables the effective formulation up to 6 million negative ions every 0.6 seconds around the user's facial area. Since most of the airborne particles are positively charged, these generated negative ions can quickly attach to these airborne particles when approaching, turning them into bigger & heavier chunks and thus falling to the ground. Like an invisible mask, these numerous negative ions will effectively eliminate airborne particles and protect you from breathing in air pollutants.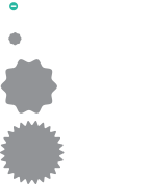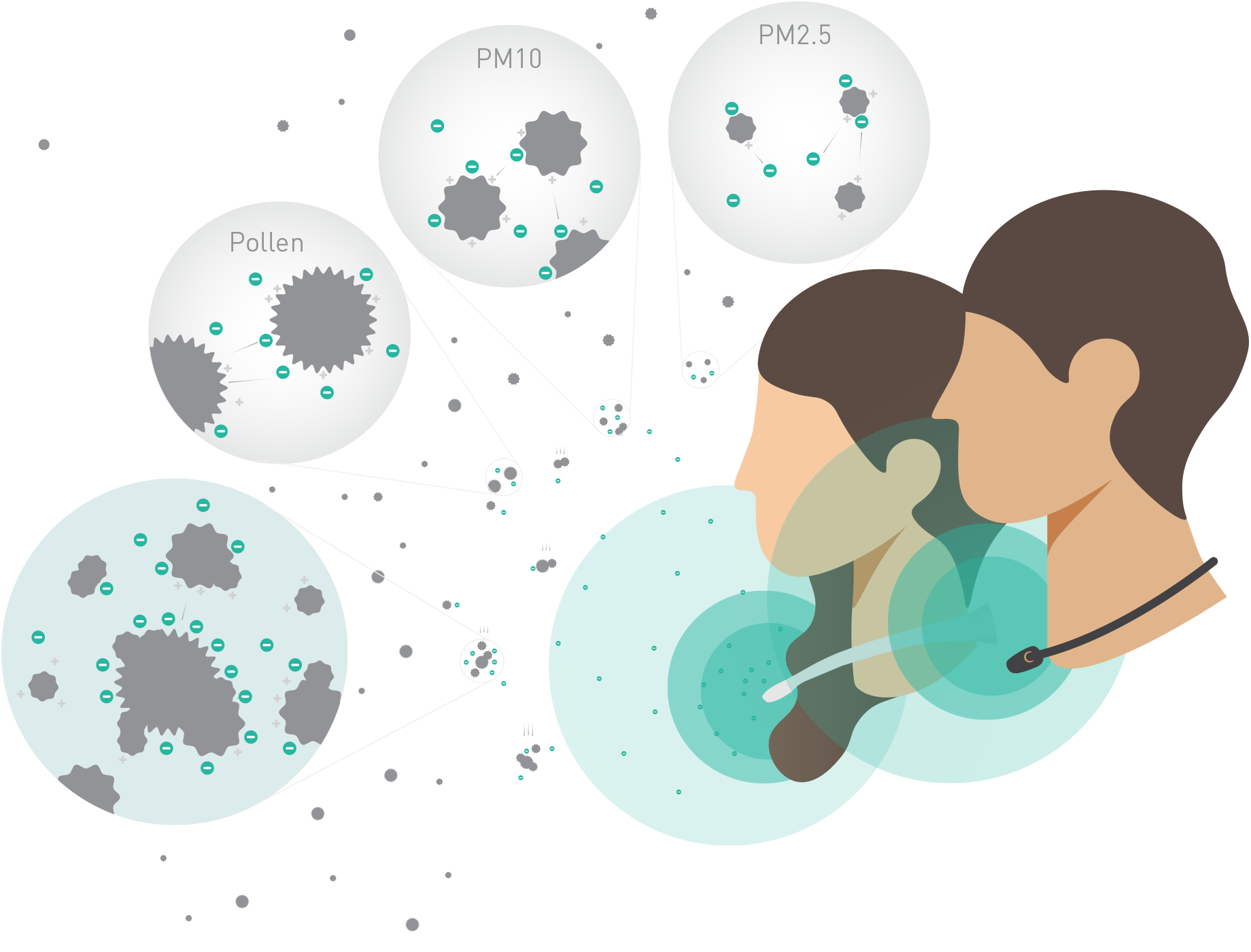 Use it Wherever You Are
Enjoy the music and clean air wherever you go.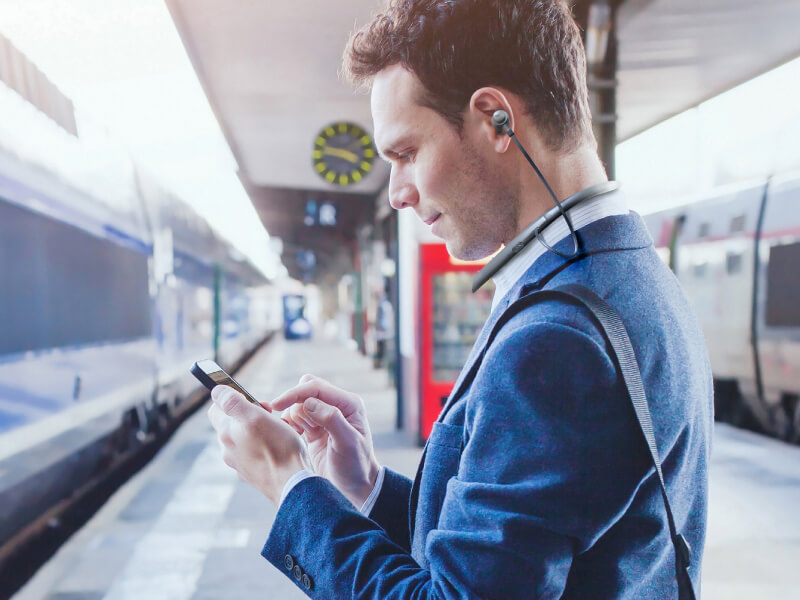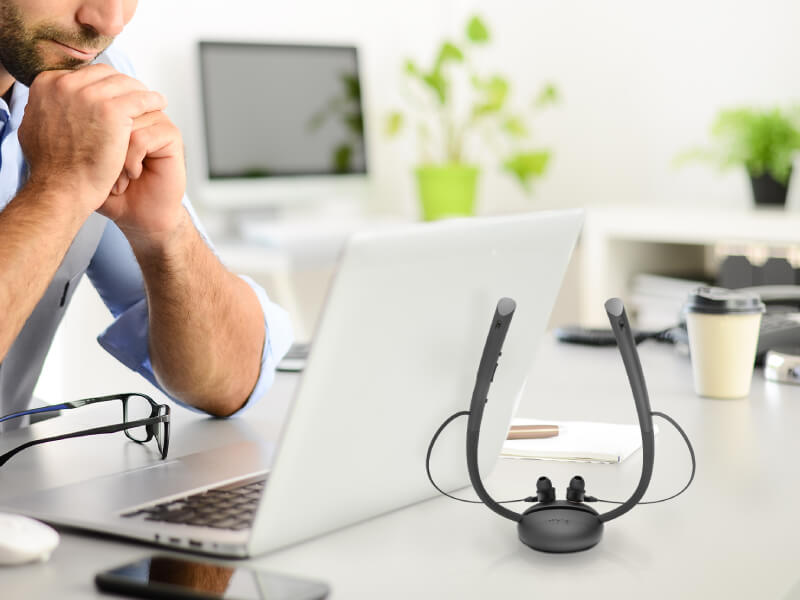 ▲ Desktop (with its own stand)
Test Video
Click the button in the center of the video

Not only focusing on health protection, Airvida E1 also cares for your safety. According to the independent certificate lab test result, Airvida E1's ozone is only 0.002ppm. Comparing to European Commission standard, 0.002ppm is just 4% to the limitation.

Extreme Low Radiation and Electronic Current
Airvida E1 complies with CE & FCC regulations. Its electric current is around 4-6μA (only 0.01% to the level of harmful electric current) and radiation is far below regulatory limit.

The hanging part of Airvida E1 applies thermoplastic rubbers. According to SGS certification, this material is strictly followed FDA regulation to avoid skin allergy. In addition, all the materials of Airvida E1 are vegan, no animal ingredients.

Airvida E1 applies thermoplastic rubbers. This material consume less energy to produce. Besides, this material is also recyclable since they can be molded, extruded and reused like plastics.

Up to 30,000,000 Negative Ions/cm³
3000 times more ions than a forest release.

Adjustable Negative ions level
Airvida E1's app will give you a suggestion to adjust negative ions level (Min., Middle, Max.) based on the real-time air quality.

Real-time AQI (Air Quality Index) / PM2.5/ Pollen info base on your location. Instant notification for the change of AQI level.

While air purifying function is enabled, the battery life is 30+hours (w/o music)/ 8+ hours (w/ music).

Wireless Noise-Canceling Stereo Headset
Avoid from noise disturbance and let you enjoy the music.

Extremely low maintenance
No need to replace filters and fans.

Connect to mobile phone via Bluetooth, so you can answer calls with just one click.

Only 42g, comfortable to wear for a long time.
Testimonial from a surgeon
Click the button in the center of the video
Specifications
Weight: 42g (0.09lb)
Dimension: 17.5×13.6×2.3cm (7.0×5.4×0.9 in)
Power: Built-in battery, rechargeable via magnetic charging cable
Battery Life: 30 hours (air purifying without music)/ 8 hours (air purifying with music)
Operating Ambient Temperature: 0°C to 40°C
Relative Humidity: 30~85%
Ion Generation: >30,000,000 negative ions/cm³
Facial Area Ion Amount: >2,000,000/ >4,000,000/ >6,000,000 negative ions/cm³
Accessory: Magnetic charging cable, desktop stand, replacement earbud tips (3 pairs)
Color: Space Black/ Pearl White