{"testimonial_characters_limit":"150","testimonial_read_more_text":"Read More","testimonial_read_less_text":"Read Less","testimonial_read_more_ellipsis":"..."}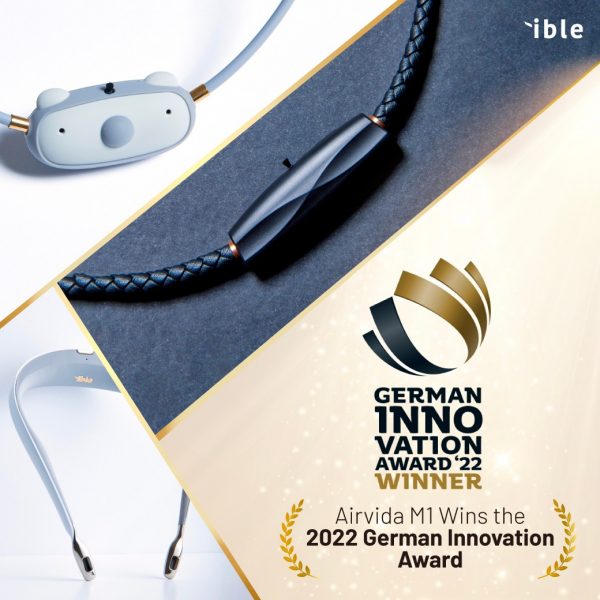 ible Airvida wearable air purifier was awarded the 2022 German Innovation Award
In recent years, deteriorated air quality in conjunction with COVID-19 epidemic all over the world have drawn more and more attention on invisible viruses, bacteria, and aerosols such as PM2.5 and pollen. At this moment, ible Tech invented brand new "breathing-path ecological ion" technology and launched Airvida, the world's lightest wearable air purifier. The innovative technology is highly recognized and won the 2022 German Innovation Award.
Different from the portable or wearable air purifiers in the market, ible's "Breathing Pathway Eco Ion Technology" technology can effectively generate more than 20 million negative ions in every 0.6 seconds along the breathing path and eliminate the harmful substances and dust around the face, mouth and nose. Airvida uses the most efficient way to purify air and effectively reduce pathogenic factors in the air including virus, PM2.5, bacteria, and allergens, which may cause respiratory discomfort.
Since the outbreak of the pandemic in 2020, ible even strengthened Airvida's efficacy of removing air virus, bacteria and other harmful substances, and was certified by Taiwan National Laboratory for its 99.7% coronavirus elimination rate. By virtue of this novel technology and the integrated product concept, Airvida wearable air purifier again proved itself and won the 2022 German Innovation Award. The German Design Committee awarded ible Tech. the Innovation Award of "B2C Technology Excellence" under the category of "Medical and Health".
The German Innovation Award, held by the German Design Committee, aims to be user-centric and selects products with innovative significance and enduring influence. The jury not only considers the novelty of the product, but also determines whether it brings practical value and contribution to users.
ible Tech. will keep on evolving and strengthening product effectiveness in the hope of providing consumers with greater product experience.
For more information about the 2022 German Innovation Award, please refer to the following page: https://bit.ly/3QaZcqa
Jun 8, 2022