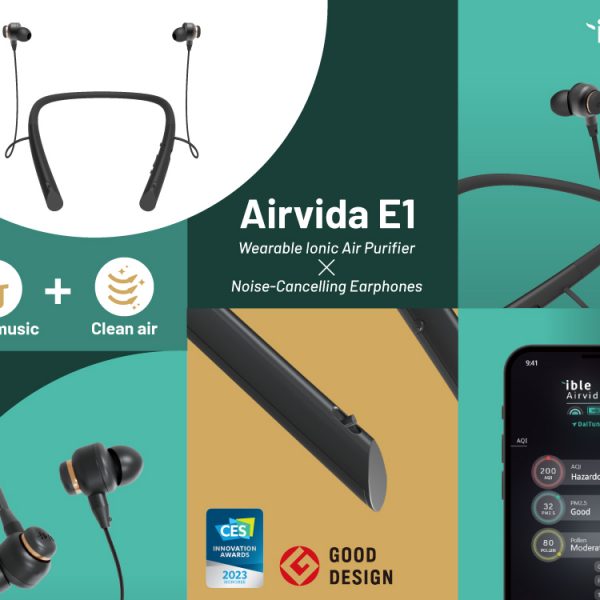 Shape the Future of Health – ible Tech. to Reveal the First Wearable Ionic Air Purifier with Noise-Cancelling Earphones at London Tech Week and VivaTech 2023
ible Technology, a Taiwan-based wearable device company, will announce Airvida E1 – an innovative health solution integrating air purification, noise-cancelling earphones, and real-time air quality information – in London Tech Week and VivaTech. More than 110,000 visitors are expected to celebrate the two tech festivals from June 12th to June 17th in London and Paris.
After 4 years of product development and refinement, ible is thrilled to unveil Airvida E1 to the tech community and the public, aspiring to bring everyone a healthier future. Airvida E1 is the first and the lightest wearable ionic air purifier with noise-cancelling earphones in the world. The device generates 30 million negative ions and gathers 6 million ions, 600 times more than a forest generates, around the facial area to protect users from airborne allergens and air pollutants. When pollen, air pollutants, and viruses are approaching users' facial area, the negative ions produced by Airvida E1 will instantly attach to the harmful particles to form heavier chunks which fall to the ground, so users will not inhale the particles. Certified by several third-party laboratories, Airvida E1 can remove 99.9% of pollen, 99.7% of influenza A virus, 99.9% of PM2.5 and 97.4% of COVID-19.
As a 2-in-1 device, the music quality of Airvida E1 is surprisingly not compromised. With 25dB active noise cancellation, users can enjoy music to its fullest without being bothered by unwanted noises. The PET + titanium-coated multi-layer diaphragm and the 13mm dynamic driver of Airvida E1 unfold an outstanding and natural sound composition with both deep base notes and clean high notes.
Airvida E1 also comes with a mobile app that offers real-time AQI (Air Quality Index), PM2.5, and pollen information based on users' locations. The app sends a notification about air quality every morning to prepare users for the air pollutants and pollen they may encounter during the day. The quantity of emitted negative ions is adjustable to reach a balance between air purifying efficacy and battery life. When the air quality is acceptable, the level of negative ions can be set in the low or moderate mode to save battery life. When facing serious air pollution, the level of ions can be elevated to the highest through the app to provide even better protection from detrimental airborne particles.
In addition, Airvida E1's consumer-focused design makes it fit various occasions. This device weighs only 42 grams in total, with the earphone on each side only 3.5g, so it is comfortable to wear for hours. The battery can last for 8 hours when both air purifying and music playing operate (more than 30 hours when only turning on the air purifying function). The device can also be put on its own stand to be used as a desktop air purifier. These features make Airvida E1 friendly and easy to use when you are commuting, working, or exercising.
Airvida family has sold over 300,000 units in 10+ countries. Based on the customer reviews on Rakuten Japan, Airvida has not only gotten a 4.5 out of 5 ratings, but has also made 97% of hay fever sufferers feel that their allergy symptoms have been greatly improved.
Designed and manufactured in Taiwan, Airvida fulfills all the highest standards of material (RoHS), performance, efficiency optimization (SGS & Kitasato Research Center for Environmental Science (Japan) & FIA (Japan) reports) and safety regulation (CE & FCC & UL). In addition to its safety, Airvida's impressive purifying efficacy and innovative product concept also earned itself CES 2023 & 2020 Innovation Awards, 2021 Good Design Award (Japan), and German Innovation Awards 2022.
Feel free to visit us at London Tech Week and VivaTech to experience fresh air with music brought by Airvida E1!
The visiting hours and venues are as follows,
>> London Tech Week: 8:30 am – 6 pm GMT+1, June 12-14, 2023 at Booth 46, 2nd floor, Queen Elizabeth II Centre, London, the U.K.
>> VivaTech: 9 am – 6 pm GMT+2, June 14-17, 2023 at Booth D38-02, Paris Expo Porte de Versailles, Paris, France
Jun 12, 2023