{"testimonial_characters_limit":"150","testimonial_read_more_text":"Read More","testimonial_read_less_text":"Read Less","testimonial_read_more_ellipsis":"..."}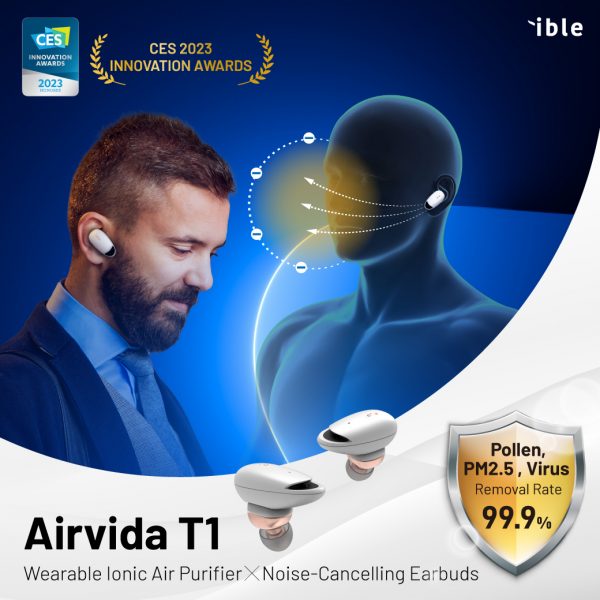 ible Technology named as CES 2023 Innovation Awards Honoree
ible Technology, an IOT and wearable device company in Taiwan, is very honored to be named a CES® 2023 Innovation Awards Honoree for its latest invention, Airvida T1. This is the second time for ible to be recognized by CES after winning an award from CES in 2020. The CES Innovation Awards program is an influential technology competition honoring outstanding design and engineering in 28 consumer technology product categories. ible's innovative wearable air purifier, Airvida T1, has won among 2,100 submissions and will be exhibited in the CES Unveiled media event on Jan. 3 and the CES main fairs on Jan. 5-8 in Las Vegas, NV.
Airvida T1 is the world's first wearable ionic air purifier with noise-cancelling earbuds. It can protect users from both air pollutants and ambient noises. This device is also accompanied by a mobile app that can inform users of instant air quality information. The whole set of Airvida T1 enables everyone to enjoy both clean air and fresh music wherever they go.
This wearable air purifier provides a great solution to people's growing concern about air-related issues. It can gather up to 3 million negative ions/cm3 around users' facial area every 0.6 second, equivalent to the number of ions 300 forests generate. Through ible's unique Breathing Pathway Eco Ion Technology, Airvida T1 produces negative ions which can attach to approaching harmful airborne particles and turn them into bigger and heavier chunks to fall to the ground. By this mechanism, it can remove 99.9% of pollen, allergens, PM2.5, and virus to create a zone of cleaner air in the facial area.
Airvida T1 can be used with the Airvida Connect app that offers instant AQI (Air Quality Index), PM2.5, and pollen information based on users' locations. The app sends a notification about air quality every morning to prepare users for the air pollutants and allergens they may encounter during the day. The quantity of emitted negative ions is adjustable to reach a balance between air purifying efficacy and battery life. When the air quality is acceptable, the level of negative ions can be set in the low or moderate mode to save battery life. When facing serious air pollution, the level of ions can be elevated to the highest through the app to provide even better protection from detrimental airborne particles.
Compared to other earphone brands, the music-listening experience of Airvida T1 is surprisingly not compromised. It adopts hybrid active noise-cancelling technology to let users focus on their tune without the disturbance of external noises. The advanced multi-layer diaphragm and dynamic driver of the earbuds can unfold an outstanding sound composition with the depth of the low notes. Airvida T1 also provides speedy and stable connectivity to users' smartphones through the latest Bluetooth 5.3. Such product creates a captivating sound experience free of interruption.
In addition, Airvida T1's consumer-focused design makes it fit various occasions. This product weighs only 9.5 grams per earbud and is comfortable to wear for hours. The battery can last for 5 hours when both air purifying and music playing operate (more than 24 hours when only turning on the air purifying function). Airvida T1 also enables users to make hands-free calling and change songs without taking out their smartphones. The product can be put in its own charging case to be used as a desktop air purifier as well. These features make Airvida T1 friendly and easy to use when you are commuting, working, or exercising.
Airvida family has sold over 300,000 units in 10+ countries. Based on the customer reviews on Rakuten Japan, Airvida has not only gotten a 4.5 out of 5 ratings, but has also made 97% of hay fever sufferers feel that their allergy symptoms have been greatly improved.
Airvida is designed and manufactured in Taiwan. It fulfills all the highest standards of material (RoHS), performance, efficiency optimization (SGS & Kisato Research Center for Environmental Science (Japan) & FIA (Japan) reports) and safety regulation (CE & FCC & UL). In addition to its safety, Airvida's impressive purifying efficacy and innovative product concept also earned itself CES 2023 & 2020 Innovation Awards, 2021 Good Design Award (Japan), German Innovation Awards 2022, the first prize in the Epidemic Prevention Category of 2019, 2020, 2021 SNQ (Symbol of National Quality, Taiwan), and 2022 Taiwan Excellence Awards. ible Technology will continue to make dedication to developing products which enable everyone to choose a healthier life.
Feel free to visit us at CES 2023 to experience fresh air with music brought by Airvida T1!
The visiting hours and venues are as follows,
>> CES Unveiled Las Vegas (Media Only): 5:00 pm – 8:30 pm PST, Jan. 3, 2023 at Booth EP-533, Mandalay Bay Convention Center, Shoreline Exhibit Hall
>> CES 2023 Main Fairs: 9 am – 6 pm PST, Jan. 5-8, 2023 at Booth DH06, 62901, Hall G, Eureka Park
Jan 3, 2023