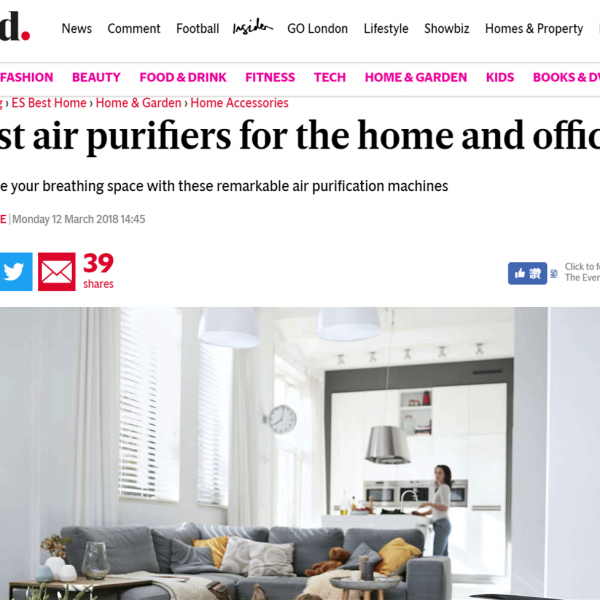 Best purifier for home and office recommended by Evening Standard!
According to a statistical report released by UK government, air pollution leads to the risk of cardiovascular and respiratory diseases. Monitoring air quality become more and more important. Airvida is the best air purifier recommended by Evening Sytandard.
Best Air purifiers recommended by Evening Standard
As the markets are crowded with all kinds of air purifiers, how to choose the right purifier? Fortunately, reporters at Evening Standard have selected 10 most popular air purifiers and tested their functionality. The technique includes HEPA filter and negative ions.
"It's a joy to use!" Airvida wearable air purifier recommended
"The Airvida L1 sits so comfortably on the neck, our tester forgot it was there. It's silent, discrete, and looks almost like a pair of headphones."
Airvida aims at zero decibel since many people are sensitive to noise, especially at night. However, you would barely notice any noise when Airvida is in operation on the nightstand. Put Airvida right in front of your face to see the effects.
Besides zero decibel, Airvida is super light, which only weights 70g, since there are no fans or filter built in. Moreover, Airvida M1 weights only 20g.
Negative ions VS HEPA filter: How to choose?
HEPA filter
HEPA filter is specializes in remove smoke, pollen, dust or bacteria. For people who would be irritated by smell, make sure to notice whether the carbon layer has been added.
When it comes to how to choose a HEPA air purifier, CADR are usually addressed. CADR is how much clear could be emitted in certain time. However, the higher the CADR doesn't necessarily equal to a good choice. Since with the CADR rises, the noises could be loud.
Negative ions
With the technique of negative ions, Airvida are designed to be carry on with users everywhere. Instead of purifying the whole space, they focus only to the area around user's nose.
How negative ions purify the air?
Negative ions attach to particles, such as smoke, dust, bacteria, allergens and pollen, making these hazardous airborne particles negatively charged. Thus, the negative charged particles bond together, becoming larger and heavier. Eventually, they fall to the ground. In such way, our noses will be prevented from breathing in these airborne particles.
Check the Customer Reviews.
Mar 30, 2018