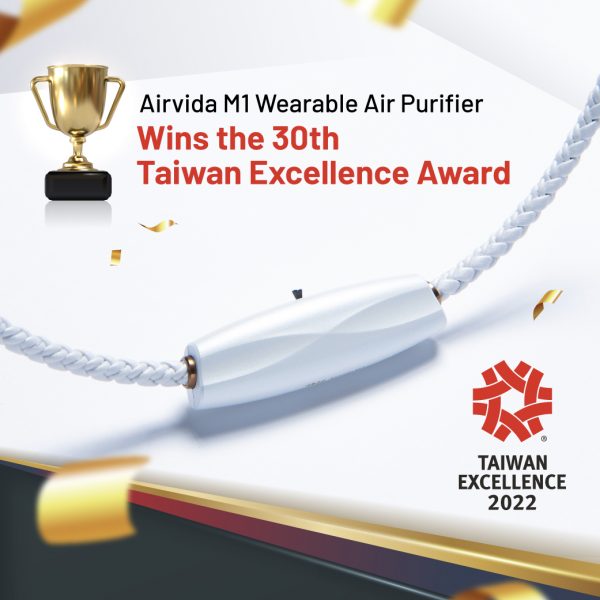 Incorporate innovation and value, ible Airvida M1 earned 2022 Taiwan Excellence Awards!
The Taiwan Excellence Awards are annual awards that are conferred by the Ministry of Economic Affairs (Taiwan, R.O.C.) and Taiwan External Trade Development Council to admire Taiwanese companies which incorporate innovation and value into their products. At 2022 Taiwan Excellence Awards, ible Airvida M1 was highly recommended by the jury from 1179 products and finally become the only wearable air purifier product earning this award.
Airvida M1 concentrates on how to make people easily breathe fresh air. In pursuit of high-quality features like superlight, powerful, and easy wearing, Airvida M1 was revised 23 times during the product development phase. After 2 years' circuit design and materials modification, Airvida M1 finally became the first 3-way usage and lightest wearable air purifier around the world. Airvida M1 adopts ible's unique Breathing Pathway Eco Ion Technology, and this technology will produce over 2 million negative ions (around 100 times more ions than a forest produces) surrounding user's face. Those numerous negative ions can disrupt and breakdown coronavirus' carbon-hydrogen bond and inactivate them immediately. In addition, they can also attach to the coming particles (such as PM2.5, pollen, pet dander, allergens) and turn them into bigger and heavier chunks to fall into the ground to avoid breathing in. Due to the pandemic threat, ible team endeavored to modify Airvida's output wave and improve its negative ions generation frequency. Finally, Airvida M1 achieves 99.7% coronavirus inactivating rate and is certified by the Infectious Disease Core Facility, Academia Sinica (Taiwan, R.O.C.). This outstanding result made Airvida M1 become the first wearable air purifier ever to win the Taiwan Excellence Award over past 30 years.
ible Tech. was founded in 2015, and the research & development team of ible Tech. come from Taiwan tier 1 technology companies. Equipping with creativity, experience, reliability and quality requirement, ible fulfills all the highest standards of material (RoHS), performance, efficiency optimization (Japan Kitasato Research Center for Environmental Science, Academia Sinica, SGS, JIRA, & FIA reports) and safety regulation (CE, FCC, UL, KC). ible has grown rapidly over the past few years and is now available in 15 countries. Honored with many awards including Innovation Award at CES 2020, StartupBlink (UNAIDS)'s Coronavirus Innovation Map, and the first prize in the Epidemic Prevention Category in 2019-2021 SNQ (Symbol of National Quality, Taiwan), ible expects Airvida to bring potent protection for people during the COVID-19 pandemic.
Jan 2, 2022